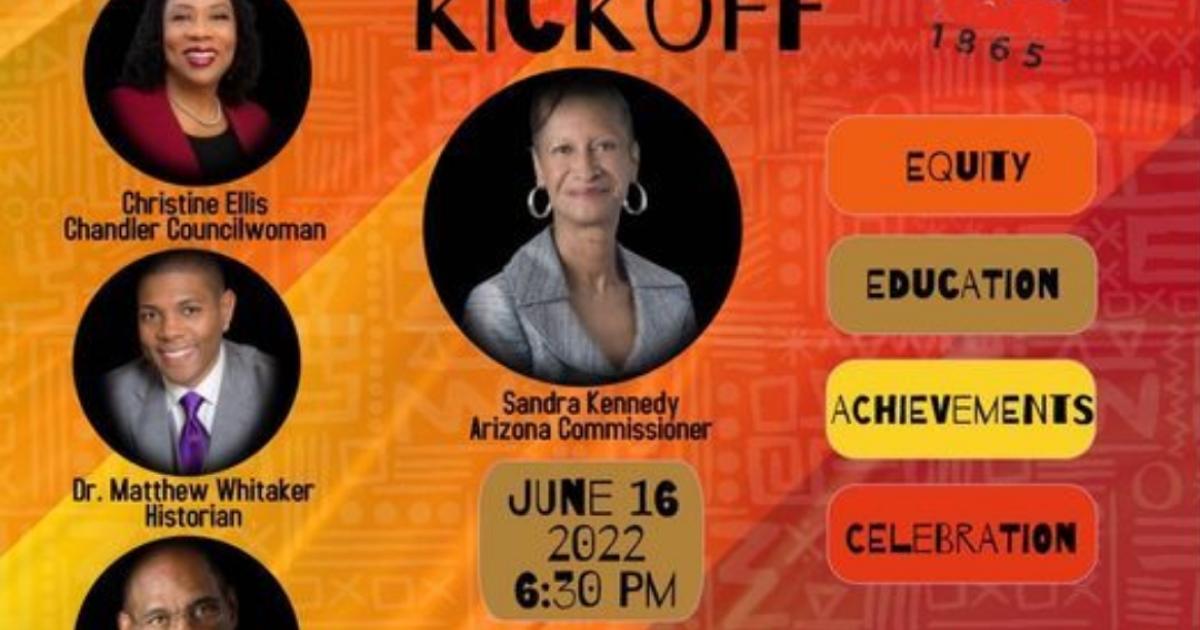 Chandler invites the public to Juneteenth community events
Chandler, Ariz. – The City of Chandler's Diversity, Equity and Inclusion Division is partnering with several local organizations and community leaders to host four June 19 celebration events. They are:
Freedom Week Launch Event


6:30 p.m. Thursday, June 16, Chandler-Gilbert Community College, Performing Arts Center, 2626 E. Pecos Road
Special guest speakers include Commissioner Sandra Kennedy, Chandler Councilwoman Christine Ellis and Dr. Matthew Whitaker. A reception will follow in the student pavilion with music, performances and celebratory activities.

Miss Juneteenth Pageant


6 p.m. Friday, June 17, Chandler Center for the Arts, 250 N. Arizona Ave.
The Miss Juneteenth Pageant will showcase and celebrate the many academic and artistic achievements of the contestants vying for the title of Miss Juneteenth. General admission tickets are $15 and can be purchased online at

Miss Juneteenth Pageant

.


Culture Music in the park


7-9:30 p.m. Saturday, June 18, Dr. AJ Chandler Park West, 3 S. Arizona Ave.
Come celebrate Chandler Freedom Week with Vaughn Willis and Ear Candy, one of the valley's most popular soul bands.

Chandler Men of Action 4th Annual Mixer


2 p.m. Sunday, June 19, Founding Father's Kitchen, 1050 W. Ray Road, Chandler
The June 19 celebration continues with the Chandler Men of Action's annual mixer and Father's Day celebration.
"We are delighted to collaborating with various local community members and organizations to help educate residents about the importance of Juneteenthsaid Niki Tapia, DEI program manager. "These events provide an opportunity to celebrate freedom and reflect on the current ongoing struggle for justice and equality. — while supporting our local black community.
Events are presented by: BASE Arizona, Chandler4Change, Chandler Men of Action, South Chandler Self Help Foundation, City of Chandler Diversity, Equity & Inclusion, Chandler Chamber of Commerce Diversity, Equity & Inclusion, Chandler City Councilmember OD Harris, Chandler-Gilbert Community College, Greater Phoenix Urban League Young Professionals, and NAACP East Valley Branch.
For more information on Juneteenth community events, visit Chandler Juneteenthor contact the city's DEI division at 480-782-2214.
See the event flyer
Media contact:
Stephanie Romero
Town of Chandler, Public Information Officer
480-782-2231