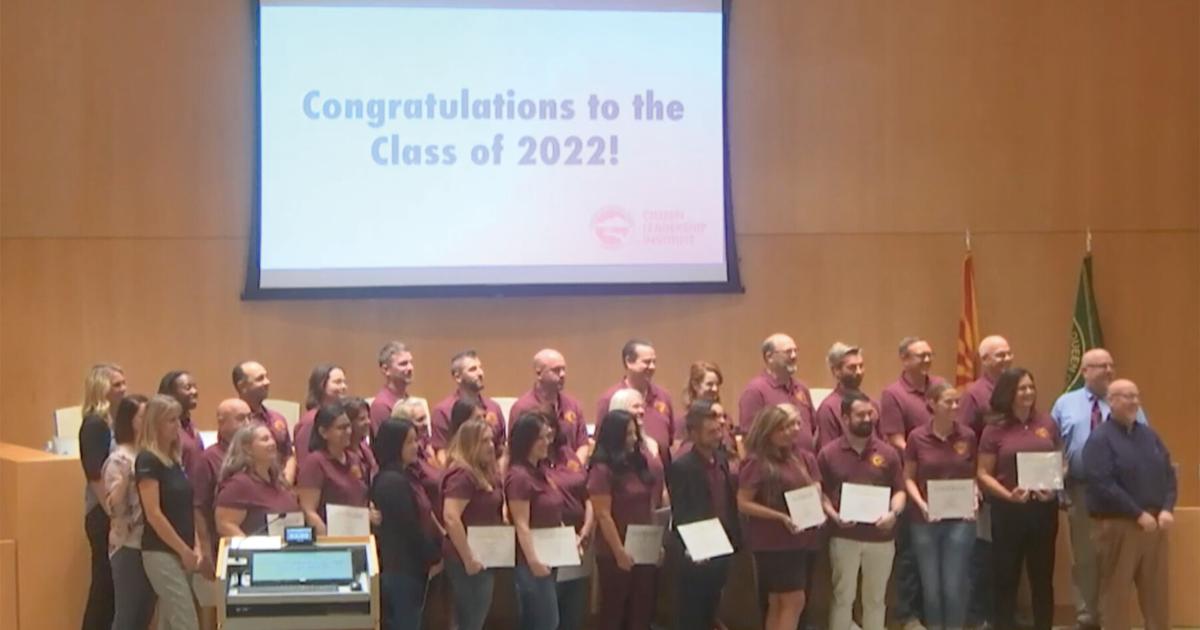 Community Volunteer Rehabilitation Youth Treatment Center |
Community leaders have helped Desert Lily Academy bloom again.
The academy renovation was the latest class project of the City of Queen Creek's Citizen Leadership Institute, which graduated 38 participants earlier this month.
The CLI program educates community members about city government through hands-on participation in the community. This is the first promotion since the pandemic.
"We had the opportunity to refresh and redecorate the girls' cabin at Desert Lily Academy," said Tabetha Denman-Geideman.
Participants spent two days restoring Dignity Cottage located on the Canyon State Academy campus at 20061 E. Rittenhouse Road.
"Our goal was to provide them with a visually appealing, welcoming, comfortable, calming and safe space to do so," Denman said.
Girls between the ages of 11 and 18 spend their first 30 days in the admissions room when they enter the residential treatment program at Desert Lily Academy.
The women-specific program helps dozens of girls identify the reasons for their disruptive behaviors and develop coping skills to overcome trauma, sometimes including a history of being victims of human trafficking.
Denman presented her project to the Queen Creek Town Council at its August 3 meeting and said how happy and grateful the girl was for the transformation.
"In fact, the design was so impactful that they recently found out they were planning to paint all the remaining cabins with the paint color and the chalk wall we did in this room," Denman said.
From January to July, CLI attendees attended 10 sessions that encompassed all aspects of city government, including its history, public services, public safety, and the parks and recreation department.
To complete the program, participants had to attend at least seven out of 10 sessions, as well as attend a city council meeting, attend a city commission meeting, volunteer at an event or program organized by the city and participate in a class service project.
The service project served as the culmination of the seven-month program and tested participants' skills and teamwork.
The whole group of participants divided into two teams: one for the renovations and one for collecting donations.
The renovation team met some of the girls over ice cream courtesy of Kolnick and got their thoughts on what renovations they should do.
Todd Seymore said the project also installed tinted windows to keep the girls cool, among other ideas.
"We also used inspirational quotes which would also help them see past some of their issues," Seymore said.
Nick and Jen Masse of RZR AZ, a Facebook group for local off-road enthusiasts, donated all the paint the group would use with some left over to continue painting in other rooms, Seymore said.
"The service project was huge," Joe Kolnick said. "Just being able to help a group of underprivileged girls who are facing big problems."
Joe Kolnick has lived in Queen Creek for 20 years and owns the Cold Stone Creamery located at 7507 South Power Road, Suite 104.
This was Kolnick's first time participating in the CLI program and he said what he remembered the most was this service project.
Kolnick donated more than $2,100 in materials for the project, including painting supplies, furniture, window coverings and electronics.
He said the project made him realize how much such a small gesture can mean to people going through a tough time.
"We take a lot for granted and thinking about the disadvantaged in our society is…huge," Kolnick said. "We have to have that safety net."
The second group coordinated a donation campaign for various "must-have" items, including art supplies, sporting goods and books.
Some of the items included sketchbooks, colored pencils, books of varying reading levels, and a tetherball pole that they had specifically requested.
"Collecting these needed supplies was vital to Canyon State Academy's ability to advance its mission and improve the lives of young people and grow its organization," said Sergio Samora.
Danielle McGinn said the group used social media to publicize the items and created an Amazon wishlist for items the academy needed.
"We had over 200 items on our list that were donated," she said. "About 90% of this list has been completed."
The group coordinated online and through multiple drop-off points around town, including the library, police station, civic center, and then local businesses.
Both groups thanked everyone involved with the project and said they felt inspired to continue serving the community.
"I also want to give special thanks to Amber Gough for leading the Citizens Leadership Institute," Samora said. "And we also look forward to seeing what others can achieve in the future."
Amber Gough is the Outreach Specialist for the program and said attendees learned about the city's programs, infrastructure and services.
"All of our Citizen Leaders are passionate about learning more about the city," Gough said.
Gough said the biggest personal benefit came in the form of networking among fellow citizens.
"Collectively, they all want to find ways to get involved and have a positive impact," Gough said.