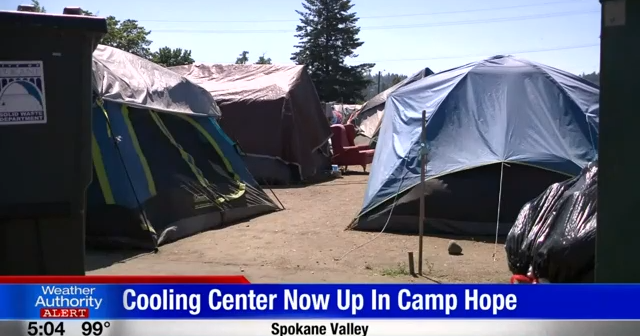 Community volunteers lend their kindness and support to those living at Camp Hope during the heatwave | New
SPOKANE, Wash. – Few people visit Camp Hope of their own free will, but those who do, help the homeless community that lives there out of the goodness of their hearts.
"Everyone in front of us is a human being and I'm sick of living in a world where we forget to see that," Casey Pilgram said.
Casey Pilgram and her neighbor, Allison Moore, visited Camp Hope on Wednesday because they simply wanted to; they wanted to help people who receive hate every day, who are struggling in the heat this week.
"I love helping people, and I do it well too, and I'd like to keep doing it if I can," Moore said.
Reaching at least 100 degrees in Spokane on Wednesday, tensions are running high at Camp Hope as people try to stay cool. On Tuesday, Jewels Helping Hands worked with a construction crew to assemble a large cooling tent for the homeless community. And on Wednesday, after hours of hard work in the sun, this tent went up.
"I feel so much better here next to these people than sitting in my air-conditioned house feeling guilty," Pilgram said.
Final preparations were underway Wednesday morning and afternoon, with cots set up, coolers stocked with ice, food and water.
One by one the residents of Camp Hope arrived, grateful for a place to rest.
"If we could give each person the grace and forgiveness we need, the world would be a whole different place and I'm ready for that," Pilgram said, while Moore added, "Me too."
People coming together and asking "How can I help" is what makes life at Camp Hope easier for the people there, whether they like it or not.
The likes of Pilgram and Moore lent a hand to help Wednesday, as the likes of Clint Livingston and father and son Tim Morgan are frequent Camp Hope visitors.
"He's here all the time," Livingston said of his son, Morgan.
The two men spent all day Tuesday in the field, under the hot skies, working to set up the cooling tent at Camp Hope, to ensure the homeless population had a cool place to rest their heads during this heat wave.
"It helps but it hurts, because I wear my heart on my sleeve, so I know when I get home I'll leave them all here," Morgan said.
Morgan is a security officer at the camp and for Jewels Helping Hands. In his spare time, he spends 90% of his time at Camp Hope anyway, as he wants to help out whenever he can.
And when there was an even bigger need for help, Morgan brought in his dad, Livingston, for an extra pair of hands.
"He pushed me to help these guys, said they needed help, so I had the ambition to come here and start helping," Livingston said.
Now the two work side by side to contribute to the bigger picture; make a difference in the lives of these people. Make sure the homeless community knows they have someone there for them.
"I walked through camp with Tim, my son, and saw the difficulties they have here, what they have to deal with, and it's just beautiful what they're trying to do here to help these people," Livingston said.
Controversy surrounds Spokane's homeless population, especially those living in Camp Hope, but at the end of the day, it's important to remember that heat waves kill.
The volunteers who come to Camp Hope every day, lending their energy, support and kindness to this community could make a difference as big as saving a life this week.