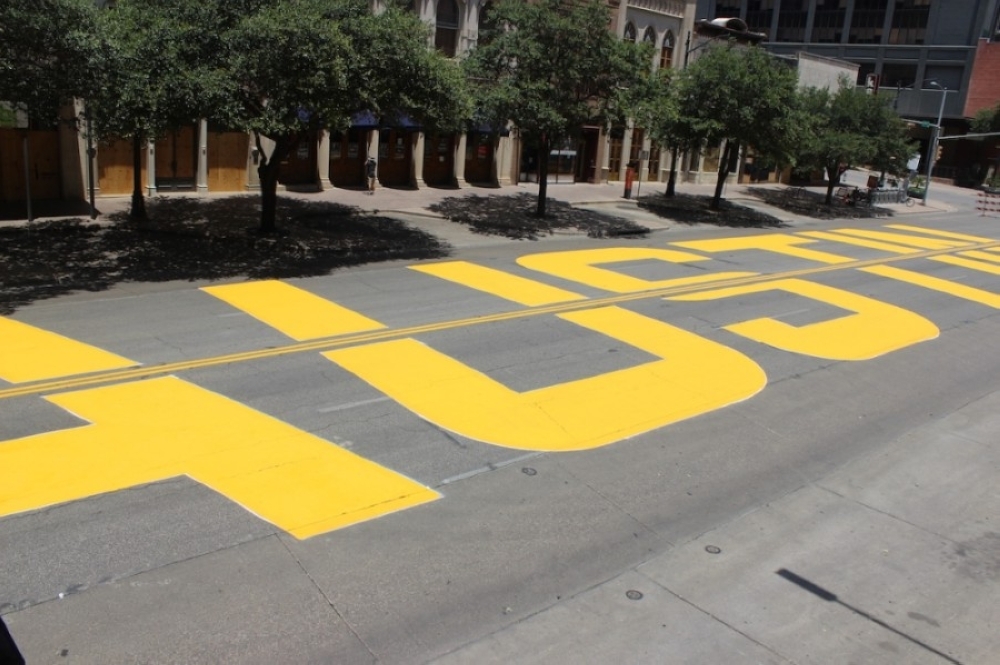 Juneteenth in Austin: Parade and fireworks information, other community events, city closures
Community groups painted "Black Austin Matters" along three blocks of Congress Avenue in 2020. Juneteenth, an official city holiday for the city of Austin starting in 2020, commemorates the day black residents of Texas have discovered that they were free from slavery in 1865. (Community Impact Newspaper Staff)
Abraham Lincoln's Emancipation Proclamation came into effect on January 1, 1863, freeing black residents of the United States from slavery. But it wasn't until more than two years later, on June 19, 1865, that Union troops arrived in Galveston with the news that black enslaved in Texas were free.
Juneteenth has been a statutory holiday in Texas since 1980, and last year the Austin City Council declared it an official city holiday, meaning many offices and departments in the city will be closed on June 18. of this year. The United States Senate also passed a bill to make Juneteenth a federal holiday, which is now before the United States House. Here is a summary of the holiday celebrations and closures in Austin.
Parade and festival on June 17
The celebration is a partnership between the Austin Area Urban League, Austin Justice Coalition, Black Austin Coalition, Carver Museum ATX, Greater East Austin Youth Association, Jump on it and Six Square.
AJC described Juneteenth as "a tradition that runs deep and brings families together, and unites all blacks across the country as a day for us. A day when we feel "free".
According to a statement from the city, the fireworks will be visible from the park where the festivities will take place.
The celebration is back in person this year after being canceled in 2020 due to the pandemic.
"Juneteenth is a chance for Black Austin to come together to celebrate what makes our community special. We have been running this parade for 18 years and we look forward to returning to a tradition that has been around for so long and which is one of the few things in our community that truly brings us together, "said GEAYA Juneteenth President Tami D. Johnson-Dawson, in a statement.
More information about the celebration is available at www.juneteenthcentraltexas.com and www.juneteenthatx.com.
">
Other events of June 17
Designation of historical marker of Montopolis and neighborhood festival
The Montopolis Community Development Corp. will unveil the neighborhood's first historic market on June 18 at 11 a.m. at Burditt Prairie Cemetery, Austin's oldest African-American cemetery.
The cemetery is located at 6700 Felix Ave., and a block party will be held after the dedication at the nearby Montopolis training grounds, 901 Vasquez St., from noon to 4 p.m.
"The history of this community is invaluable," MCDC President Fredd McGhee said in a statement. "With gentrification destroying the heritage of entire neighborhoods in Austin, community-based protection, preservation and lifelong care are more important than ever. "
">
Social bike ride on June 15
Last year, Talib Abdullahi, an Austin resident, conceived the idea of ​​the Black History Bike Ride. What he initially thought were a few dozen friends joining him on a Black Austin history tour ended up with over 400 masked participants joining the ride.
Abdullahi will lead a 10 a.m. Black History Bike Ride on June 19 through sites in Austin including Haskell House in Clarksville, Barbara Jordan Statue, Huston-Tillotson University and Victory Grill.
"Really, the hope for the June 19 hike and these hikes in general is to create a conversation you've never been to before. By helping to educate people of all backgrounds in our community about black history, we are able to show that we still have a long way to go as a society in terms of equity and inclusion in all spaces. "Abdullahi said in a statement.
Participants will meet at the Texas African American Memorial on the Capitol grounds to begin the ride.
">
UT's LBJ School hosts a webinar
The University of Texas LBJ School of Public Affairs and the Center for the Study of Race and Democracy will bring together a number of academics and historians to discuss the meaning and significance of Juneteenth.
The event will be moderated by Peniel Joseph, the founding director of CSRD, and will include a keynote address by Annette Gordon-Reed, professor of law and history at Harvard University who won the Pulitzer Prize for story in 2009 for his book "The Hemingses of Monticello: An American Family." Free registration is available here.
City closures
This is the first time the city of Austin has recognized Juneteenth as an official city holiday after passing a resolution last year. All Austin Public Library branches will be closed June 18-19. The Austin Animal Center will also close on June 18 but reopen on June 19.
Unaffected municipal services that will continue as planned include garbage and recycling collection; the opening of parks and recreational facilities such as swimming pools, golf courses and tennis centers; and COVID-19 vaccination sites. Austin Public Health staff and volunteers will be in Rosewood Park and Givens Park on June 19 to provide free COVID-19 vaccines.