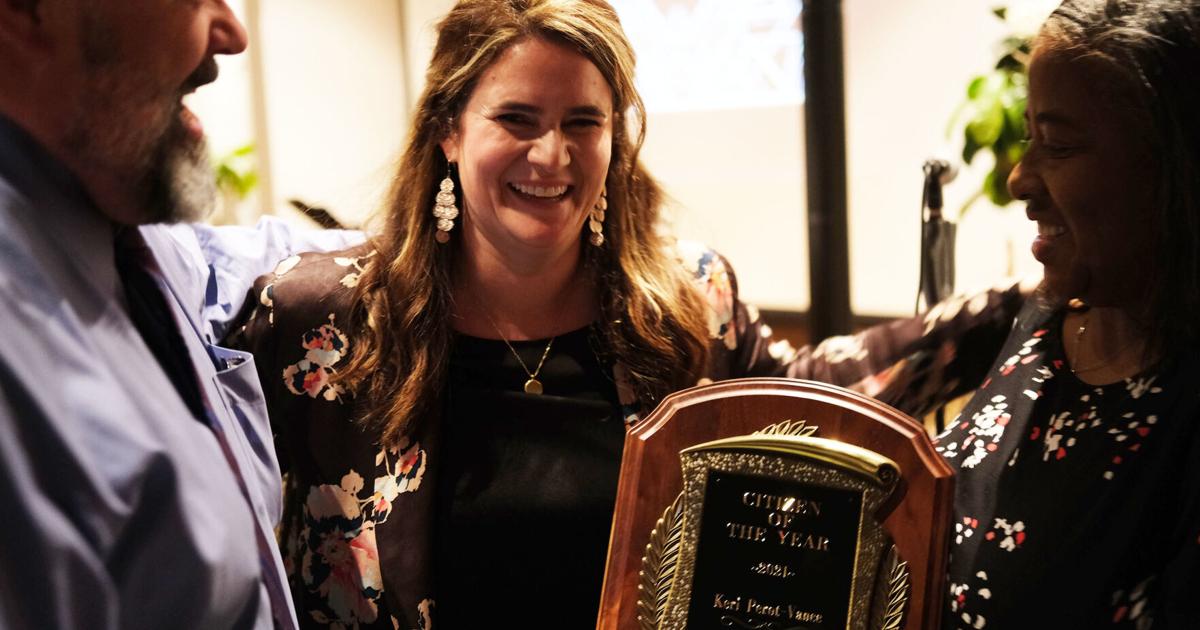 Longtime Community Volunteers Honored at Panola County Chamber Banquet | News
For Keri Perot Vance and Bill Morris, service to their community is at the heart of everything they do – and they make time to give back even though both have demanding jobs.
It is for this reason that they were honored Thursday at the Panola County Chamber of Commerce banquet as Citizen of the Year and Employee of the Year, respectively.
In praising Perot Vance's efforts, Sharon Roberson-Jones cited "a long list, made up of thousands of hours of hard work, and she did it while running her own business and raising a family."
"She wasn't born here, but as the saying goes, she got here as fast as she could – and since her arrival she's made Carthage and Panola County her home," Roberson said. -Jones. "She also strives to make our community a home for all others, whether that's donating her time to civic improvement projects like Clean-Up Panola County Day or working with our elected officials to respond to community concerns or making sure anyone she meets knows they can do great things in Panola County if they give it a chance.
"We say thank you to him for putting so much time and effort into making Panola County a great place to live," Roberson-Jones later added.
The chamber hosted its 76th annual banquet at the Texas Country Music Hall of Fame, bringing together a jazz trio to entertain while guests enjoyed a surf and turf dinner hosted by Sodexo.
The annual event is both a place for the chamber to look back on its accomplishments of the past year, to honor its members and to celebrate the people of Panola County who are making a difference.
This year's prizes were awarded to:
Main Street Shining Star Chase Dawson
Main Street Rising Star Luke Horton
René Nolen Ambassador of the Year
Bill Morris Employee of the Year
Citizen of the Year Keri Perot Vance
President John Ray also paid tribute to outgoing President David Everett for his two years of service – a longer term than usual thanks to the COVID-19 pandemic.
"David Everett took over as president just before the pandemic started," he said. "David, I think you were president for a few months and then all meetings stopped. As it was a very unusual and shortened year, David agreed to serve a second year as president, and I had the privilege of working with him as a member of the executive committee. His leadership was invaluable during this time. He led with a firm hand and great interest in moving the chamber forward.
In her new role as executive director of the chamber, Perot Vance said they enter 2022 with a solid foundation. She also thanked Tommie Ritter Smith for his many years of leadership in the chamber.
"A leadership transition is always a bit of a challenge and I am grateful to those who have invested their time and expertise serving our Board of Directors and Executive Council," said Perot Vance. "We have so many people to thank for making this transition a little smoother."
Among the many tasks the chamber has been working on are setting short and long term goals, revising their mission and vision statements, and building a new website. The chamber also recorded a 6.9% increase in its membership in the first quarter of the year.
Perot Vance also took the time to thank chamber ambassadors for volunteering their time, saying that's what fuels the chamber and keeps it going.
To the community, Perot Vance said the chamber works for you.
"Every day we are passionate about economic growth," she said. "We are invested in the future of Panola County, and I encourage you to stop by, challenge us, partner with us, ask questions, and talk about what makes Panola County the best place to live, learn, start a business, raise a family and retire."
Perot Vance also made another important announcement: the official name of their new cat. The names were sent in by Watchman readers, and the chamber board voted: Chester was the winning name.
Carthage Main Street Director Cindy Deloney noted that Carthage had been a state and nationally accredited main street program for 20 years before honoring two people who were actively involved in the events and the downtown planning.
Chase Dawson, best known for his work helping to preserve and promote the historic Esquire Theater as part of the Country Music Hayride, was described by Deloney as someone who, if not standing right next to her, he is "a phone call away".
"He never seems to get upset with me," she said. "He always talks to me or he gets to me as fast as he can. He shares my love for downtown historic buildings, especially the Esquire Theater, and he went above and beyond to make sure the building doesn't just exist, it thrives."
Deloney also congratulated Luke Horton, president of the Main Street Youth Advisory Council. Horton, in his valor with the YAC, helped organize things like the Mainstreet Film Festival and summer camps for young people.
2020 Employee of the Year Olen English helped honor Morris as the 2021 Employee of the Year. Morris, who grew up in Carthage, joined the U.S. Army upon graduation and served in Operation Desert Storm. He returned to Panola County after his military career ended and now works as the county's Veterans Services Officer.
"He knew that was where he was needed and wanted to take a job serving local veterans," English said. "It was a complex business to help veterans get eligible benefits from the Veterans Administration, but he wanted it — not only to be veterans who sought him out, but he often sought them out. often asking them what he, as a veterans services officer, could do to help them."
Morris "has a servant's heart for our veterans," English said.
He "dutifully serves our country, our taxpayers with commitment, sensitivity, advice and a few touches of humor along the way," English said. "As a trusted employee of the Panola County Courthouse, and therefore of Panola County, he makes a meaningful difference by going above and beyond."