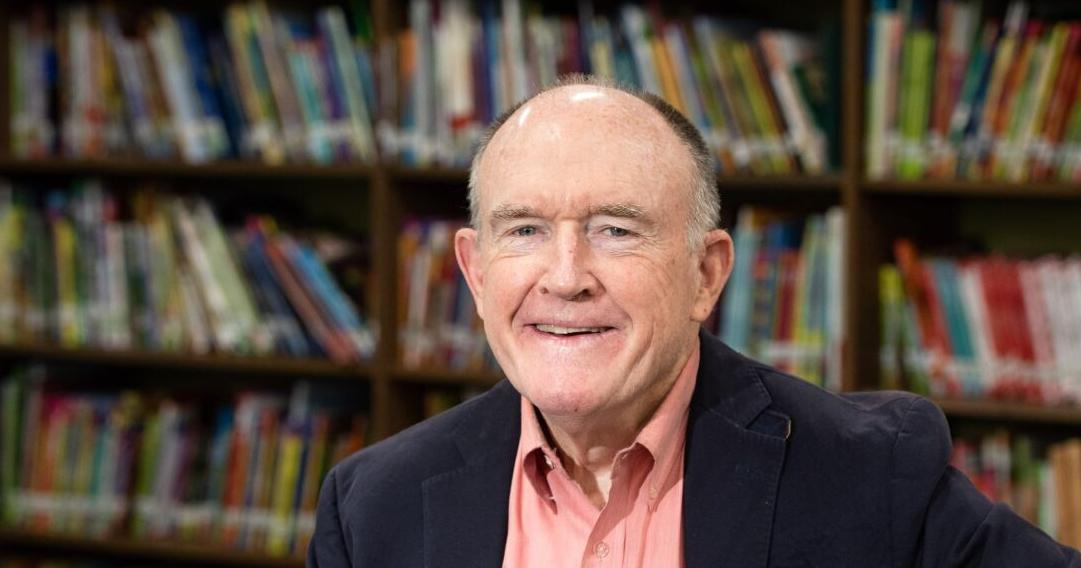 school district calls on community volunteers to help improve reading skills | Education
A few times a week, Thomas Hagerty visits a first grade student at Kimberley Park Elementary School to sound out the letters and help him recognize words.
Observers would say that Hagerty teaches the child to read.
But Hagerty sees something bigger going on.
"There's magic in that," he said.
The boy is calm but quick to learn.
"It's a universe of potential. Right now it's a quiet universe, but I suspect there's a supernova among the galaxies," Hagerty said.
Hagerty, a retiree who moved to Winston-Salem in 2019, is among nearly 180 people participating in the Reading Warriors program, a community-wide initiative that Winston-Salem/Forsyth County Schools has launched over early this fall.
The program is a call to county residents to help the school district achieve an ambitious goal it set at the start of the school year – to have 90% of third-graders in all of its schools read. at or above grade level by 2025. The state says that students who can achieve this level are proficient.
School district leaders acknowledge that they have set the bar high.
"We know the historical data," Superintendent Tricia McManus told the school board last month. "And we are here to change it."
These data show that the district will have to make a monumental leap to achieve its goal.
In recent years, the number of third graders reading at grade level or above reached 58% in 2013-2014 and 51.6% in 2017-2018.
Reading scores across the country plummeted in 2020-21, a devastating byproduct of the pandemic-fueled learning disruption.
Locally, third-grade reading scores dropped from 13% to 39.3% proficiency among all third-grade students. Reading levels varied considerably from school to school. In several schools, less than 20% of third-grade students were proficient.
The district's "90 by 25" goal applies to each school, not the entire district.
"It's a huge goal," said Nicolette Grant, district director of studies. "It's about putting all the right pieces together and getting the schools and the community working together. We need their help. We cannot do it alone.
The Reading Warriors program focuses on kindergarten and first graders, with the hope that when they are in third grade by 2025, they will have developed a level of reading comprehension that will make them proficient.
Being proficient at this level sets the stage for future success in school, Grant said.
"If you don't pass in third grade, you'll struggle for years," she said. "The shift from learning to read to reading to learn is truly a pivotal moment."
According to the Children's Reading Foundation, a non-profit organization based in Washington State, 85% of the school curriculum is taught through reading. About 75% of third graders who struggle with reading will never catch up, the foundation said.
Reading Warriors volunteers receive training that matches what their teachers teach in the classroom, and they document their child's progress for teachers to review.
In other words, volunteers do more than just read stories to children.
Volunteers complete approximately four hours of self-paced online training if they want to mentor kindergarten students and 12 hours for first-grade students.
Once the training is complete, volunteers are paired with two kindergarten students or one first grader at one of 19 participating elementary schools.
Reading warriors are invited to visit their student for 30 minutes, twice a week, with a goal of meeting 50 times.
The school district hopes to recruit 800 volunteers to serve 1,020 students.
Paula Wilkins has seen how community support can help schools transform students. She was named principal of Cook Elementary School in 2016 shortly after being named the worst performing elementary school in the state. Volunteers have played a crucial role in helping the school steadily raise its grades, especially in reading and science, Wilkins said.
Wilkins is now the executive director of Project Impact, an organization that partners with the school district to improve early childhood education.
"You can't just pull-up inside the walls of the building," Wilkins said. "My philosophy was how do you let the community in? I believe that was a big part of our transformation. When people came to visit us, they couldn't tell who was a TA (teaching assistant) and who was a volunteer. We did not always have the staff capacity to meet the needs.
Wilkins has been out in the community to talk with different groups about the initiative, trying to get more volunteers to work in a program she says can change a life.
Hagerty said he felt a quick connection with his student at Kimberley Park. Beyond this individual connection with a struggling reader, Hagerty sees global implications for improving literacy.
"As the world becomes more complex, reading will become even more vital," said Hagerty, retired from industry and education. "Video communication is often useful and fun, but civilizations are built on words."
How "Mashed Potato Time" Played a Part in Reuniting James Spates and Vivian White.
Touched by the tragedy of her daughter's death, a local woman launches a mobile needle exchange program.
The community moved after the death of Jumil Robertson. His family did not.
Parents spent several excruciating hours waiting to be reunited with their children after a shooting at a school.