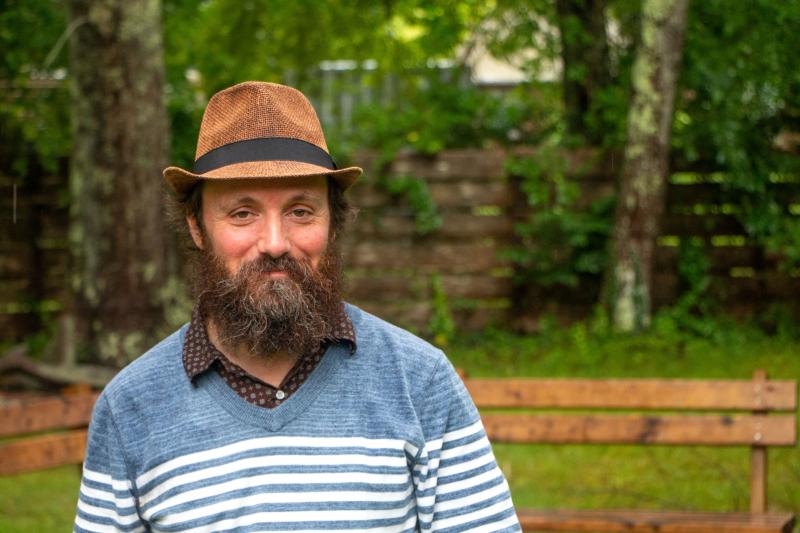 The pandemic ended the events of his music community, the rest is history
[ad_1]
MATTAPOISETT – It was a temperate July evening as the villagers filled the benches at the Mattapoisett Museum and began to talk quietly among themselves, almost like worshipers before an evening sermon.
The seats were almost full at the start of the show, and many musical instruments – from acoustic guitars to ukuleles and violins – could be seen kneeling among the crowds.
They had come to see a show and perform, but mostly they came to Open Mic Night to feel like part of a community again – to play their music for a real audience and to help others do the same.
The show's organizer, a short man with a tousled beard and kind eyes, addressed the crowd with an extremely welcoming but not at all bossy voice. Her tone seemed to say, "I'm just here for the ride, like everyone else."
Jeff Angeley has been hosting events like these for years: community gatherings that bring people together using music as a catalyst. In fact, creating that sense of community has become something of a raison d'être for him – a central goal that shapes most of what he does.
"Everything I do these days is about community music," he said. "I try to pretty much focus all of my external work – my musical interpretation work – on creating events that anyone can participate in if they wish, that attracts other people."
For years Angeley operated a studio at Hatch Street Studios in New Bedford where he taught music lessons and hosted events like Open Mic Night and others like Old Time Fiddle Sessions and Silent Movie Nights with live music.
Angeley's goals were to create a place where people can play and enjoy music with minimum pressure and maximum participation, and in this studio her work flourished.
At his peak, Angeley had five other music teachers working in the studio, dozens of students coming and going for group and individual lessons, and reliable follow-up for his events.
That changed in March 2020, when he had to close his doors and find a way out of the one-year lease he signed a month before.
"The pandemic has been very hard on me," he said. "I couldn't keep my employees there, I couldn't even really use it for work."
Angley's entire business, like so many others, was forced to leave their space in person and access the internet within days.
Fortunately, he said, he had some virtual teaching experience, but it was still a challenge.
"The good thing is that I've always had virtual students," he said. "So when the pandemic hit, it wasn't a learning curve for me to participate in a video chat to teach a lesson. It was more about teaching my student base how to come with me, which was really helpful.
Kevin Whelan, who took claw banjo lessons with Angeley for about 2 years, said Angley's experience with teaching music online made the process of switching to distance learning much easier. .
"All things Considered [the Zoom lessons] went really well, "he said, adding that" it gets a lot easier when the quality of the video chat improves ".
Whelan said he now enjoys the flexibility of being able to take some of his lessons online when he can't get to Mattapoisett from his home in Bridgewater.
For Angeley, the hardest part of the pandemic was finding a way to continue the community events that had become such an important part of her job, without being able to bring the community together in person.
Angeley said he experimented with virtual events for about three months after his studio closed, but the latency of video conferencing platforms made it impossible to play music all together.
"So it was more like there were a whole bunch of people on the screen, muted and me playing tunes at a moderate tempo, and I assumed they were playing the same tunes at home," did he declare.
Eventually Angelley decided to stop the events altogether and although her classes continued – sometimes virtually, sometimes in her garden when the weather was nice, sometimes in her garage when people were feeling comfortable – the experience was exhausting for him.
"When it was mostly virtual for a really long time, I had times to wonder if this was really what I wanted to do, because that connection is kind of what I'm looking for," he said. declared. "I didn't become a music teacher to get rich, you know?" "
Fortunately, after 11 months without events, the world started to reopen and a new place presented itself to Angeley.
Jessica DeCicco-Carey, who recently became a member of the Mattapoisett Museum board, has known Angeley for years as her daughter's violin teacher. So when she realized he had no more space to organize his events, everything fell into place and she approached him to organize them at the museum.
DeCicco-Carey said what Angeley is doing fits well with the path the museum wants to take to become more of a community place, and the response from early shows solidified that sentiment.
"It was a huge success, we had tons of people coming out to watch," she said of the museum's first open mic night, adding that the relationship with Angeley was mutually beneficial.
"People who come in usually don't come to the museum and they usually leave a donation," she said.
Angeley also referred to the events as symbiotic because while he doesn't make money directly from them – all open-participation events are free – they're a good way to get his name known in the community.
"The reason I do the events isn't because they are a promotion for the company, I don't even post any company material at the events, but that's one of the reasons which I can work on, "he said. . "You know, people see me at events and that's where they think they find out about things."
So far, Angeley's relationship with the Mattapoisett Museum has got off to a good start with open mic parties and Old Time Fiddle Sessions now scheduled for monthly performances.
There have even been discussions about whether to try silent movie nights with live musical accompaniment at the museum, but the logistics for hanging a projection screen are yet to be defined.
The next shows will take place this weekend with an open mic night on Friday, August 20 at 6 p.m. and Old Time Fiddle sessions on Sunday, August 22 at 1 p.m., and DeCicco-Carey said the museum was delighted to host.
"It's so refreshing to see life in the museum again," she said. "I think everyone missed this community connection and the face to face interactions."
[ad_2]