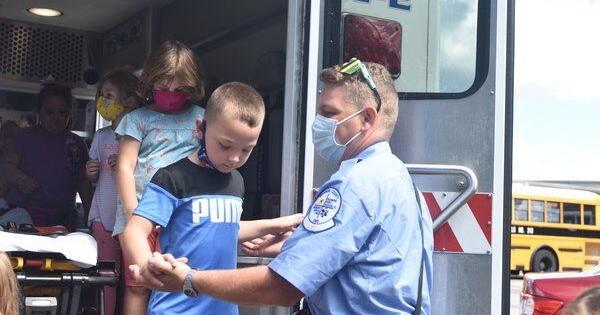 "Who is your neighbor?" »Local Kindergartens Ask About Community Volunteers | News
On Friday morning, the Madison Kindergarten Academy (MKA) parking lot was alive to the sounds of children's laughter and flashing sirens.
Richmond Police, Madison County Sheriff's Department, Richmond Fire Department, EMS and many more have all come to MKA to tell them about the volunteers in the community.
MKA principal Jennifer Martin explained that the "hit a truck" day stems from the school's program.
"We have a social studies program that is full of community helpers," said Jennifer Martin, director of MKA, when asked why the Academy is hosting 'hit a truck' day. "… They talk about who is in a community, who is your neighbor. WHO helps in the community. We just take the opportunity to bring it to life. "
But the program isn't the only reason MKA brings in volunteers from the community to meet their students.
"It teaches them all the different things they could be when they grow up," said Michelle Dunaway, director of family resources. "… It also helps the students see these guys in uniform and not be afraid."
"We like to do things like this just by interacting with our young people," said Corey Lewis, chief public information officer. "We want them to see us in a non-threatening, non-urgent environment."